Niche adaption and endangerment of endemic east Alpine vascular plant species
Niche adaption and endangerment of endemic east Alpine vascular plant species

University of Graz, Institute of Plant Science
 
Patrick Schwager
 
Supervisor: Christian Berg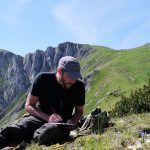 The vascular plant flora of the Alps was never so endangered and never so insufficiently protected as today. Beside anthropogenic interferences, global warming is one of the main threats to the alpine flora. In order to protect species it is important to understand the connections between species and their abiotic and biotic environment.
Species distribution Models (SDM), also called ecological niche models or habitat suitability models, utilize relationships between environmental variables and species observations to find environmental conditions where these populations could potentially occur. Species distribution data is frequently used for analysing species-environmental relationships and therefore is of particular importance for modelling distributions under future climate and other environmental change scenarios. Field work will be undertaken at different localities within the Styrian Alps to describe the habitat characteristics for several species of high conservation value, especially Eastern Alps endemics. Species occurrence data and environmental data (climate variables) together with remotely sensed data (digital elevation model, land cover) will build the basis for the models. Calibrated for current conditions, the model can be used to predict the impact of environmental and climate change on species distributions.
The research focuses on habitat preferences of vascular plant species with high conservation value in a changing environment to get a deeper insight of future threats of the endemic alpine flora and a better understanding of vegetation change processes in the Alpine belt. Species distribution models contribute to environmental risk management and allow to work out conservation action plans for the most endangered and important sites.